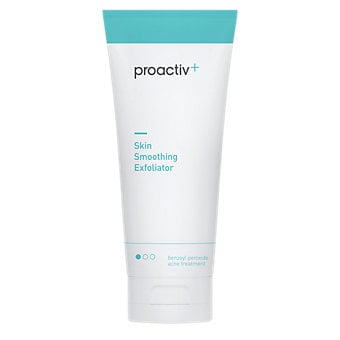 Proactiv+ Skin Smoothing Exfoliator
This creamy, cushiony cleanser is formulated with prescription-strength micro-crystal benzoyl peroxide to clear up acne blemishes and help prevent new ones from forming.
Check out or best-selling product!
Doctor Developed
Dermatologist developed, Proactiv is an effective 3-step acne system designed to give everyone the clear skin they deserve. All of our products can be used in conjunction with the 3-step acne system or as an addition to your skincare routine.
Benefits
Helps prevent breakouts by killing acne-causing bacteria
Cleans and gently exfoliates the skin
Helps to minimize the appearance of pores
Designed to help reveal smoother, softer, healthier-looking skin
Contains micro-crystal benzoyl peroxide (2.5%)
Creamy, airy, cushiony texture
New flip-top packaging for ease of use
Non-greasy
Sulfate-free, paraben-free
Non-comedogenic, dermatologist tested
Suitable for all skin types: oily, dry, combination, no
Directions
Step 1 in the Proactiv+ 3-part system. Use twice daily, morning and night. Treat your whole face. Apply a small amount to dampened skin and gently massage with fingertips for 1 to 2 minutes. Rinse thoroughly with warm water. Pat dry and follow with Step 2, the Pore Targeting Treatment and Step 3, the Complexion Perfecting Hydrator. If going outside, use a sunscreen.